Why Us
Everywhere you look people are on the go, out and about, day and night — With mobile phones keeping every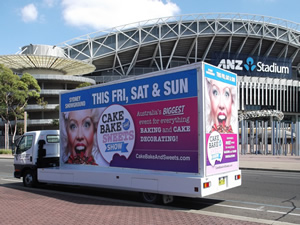 one connected people are spending more time out of their homes and offices every day. For this reason, traditional advertising mediums such as newspapers, magazines and television, have become less effective. In today's society, out-of-home advertising is one of the fastest growing, highly effective medium.
Outdoor Media Advertising is proven to be the best value in outdoor marketing; we are the most innovative and dependable company in the industry, providing an untraditional progressive and high impact advertising solution. Our vehicles are seen by thousands of consumers. We have access to CBD, metropolitan and regional areas, Australia wide.
We are committed to providing the most efficient advertising solutions for your business. We coordinate the production, design, delivery and installation of your message.
Top 8 reasons why Outdoor Media Advertising out-perform other advertising mediums:
Billboard advertising works! It lives up to its promise, reaches more people than many other mediums and offers better value for money.
You can take your message directly to the areas where your customers are.
It is stand alone advertising – your message stands out from your competitors, unlike local paper, TV and radio advertising.
Billboard Advertising cannot be thrown away, switched off or turned over which means it gets noticed and works for you all of the time
No other form of local advertising can reach as many people at such a low rate per thousand.
Billboards are always working, stationary or moving so there is no wastage.
The billboards are big, eye level, moving and unique which means they cannot be missed and people can't help but look.
We can cover a far greater area than other advertising mediums so you don't have to advertise in dozens of overlapping newspapers and radio stations.
Some of Our Clients